Please support our high school boys and girls teams in district play
Both the boys and girls high school teams have advanced to the district semifinals, and both have home games this week. The #2 seed NR girls will play at home against Brecksville on Tuesday night at 7pm. The #2 seed NR boys district semifinal game is also at home on Wednesday night at 7pm. Most of these players came through the North Royalton Soccer Club, and we're proud to see their success at the high school level. Go Bears!
NRSC End of Fall Season social events are a big success!
The 3 Spot was packed Sunday evening as North Royalton Soccer Club supporters came together for a night out. Several travel teams came as a group after their Sunday games, and the recreation league was also well represented. Thank you to the 3 Spot for donating $300 to the NRSC as a share of the proceeds for the evening. In addition, the Club raised $280 through a 50/50 raffle.
Here's a few pictures from the social.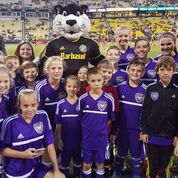 Also, the 2016 NRSC VIP Crew Trip was an equally successful and fun Club outing. As has become tradition, we have both pictures and video from this event. Watch and enjoy!
Thank you and a request from the NRSC Fundraising Committee
Dear NRSC Parents & Coaches—-on behalf of the NRSC Fundraising Committee, thank you for the tremendous turnout at the first ever NRSC End of the Fall Season Social at 3-Spot on Sunday! Not only did we raise money for the Club but it was a great time to meet other NRSC families and to see the kids have fun as well. We want to do more of this but NEED YOUR HELP! The Club needs volunteers to help with social activities/fundraising events and to generate new ideas as our support is very limited right now. Your involvement will make a difference on many fronts. As an example, the funds we raise helps offset Club expenses to keep our fees affordable. Moreover, the social interaction alone with planned activities enables our Club to become an even stronger community partner. Simply put, YOUR INVOLVEMENT HELPS US GROW!
Not sure if you are aware but we are a 501c3 Charitable Organization so your involvement can be tax favorable. The point is that YOU WIN on all fronts when you support the Club in any way possible. Volunteerism at NRSC will not be extra work….it will be fun & rewarding….I promise! All of this is pointed toward helping our kids get the best experience possible and to help the NRSC Board achieve its many goals to this end. Please sign-up now as a NRSC Volunteer at this Sign-Up Genius Link.
Thank you very much for your support!
NRSC Trustee Meeting and Club elections – Tuesday, November 15
The November Trustee Meeting and Club elections will be held on Tuesday, November 15 at North Royalton City Hall at 7pm. The meeting will be held in the meeting room immediately inside the entrance on the left hand side. All coaches and assistant coaches are required to attend.
New header policy for all NRSC players
As part of a concussion litigation settlement agreement with US Youth Soccer and US Club Soccer, new header guidelines have been formulated at the national level and have been pushed down to local levels. On March 28, Ohio Youth Soccer North communicated their policy with the notification that it would go into effect immediately. At the NRSC Board meeting on April 12, the NRSC Board used the guidelines of these larger organizations to create an NRSC header policy. The following NRSC club rules for heading the ball are now in effect (as of April 12, 2016);
All recreation players in age groups U14 and younger are not permitted to intentionally head the ball during practices, games, or any other NRSC activity. Coaches are expected to enforce this rule at all times. In game situations, intentional heading will result in an indirect free kick awarded to the opponent at the spot of the infraction – or from the top of the goal area for infractions inside the goal area.
All travel players in age groups U11 and younger are not permitted to intentionally head the ball during practices, games, or any other NRSC activity.   Coaches are expected to enforce this rule at all times.  Travel players at the U12, U13, and U14 age levels will receive guidance from their coaches on the header policy for those age groups.
Posted club rules at Heasley have been updated.
Girls U10 travel wins at Kent State
Read the story on the travel page.
NRSC on Facebook
You can find us at www.facebook.com/northroyaltonsoccerclub
NRSC League Director position is currently open
The NRSC League Director position is vacant as of November, when Frank Werner retired after several years of service. We are looking for volunteers for the job. The primary duties are to create the league schedules and purchase the end of year trophies and medals. If you have any questions or interest in the position, please contact President Pete Ragone and Vice President Curt Keaton through the "Ask the NRSC" link in the upper right corner of this page.